2012-2013
SPIE Student Speaker Series
"Optical Near Field Studies of Plasmonic Antennas for Sensitive & Selective Biosensing Applications" by Dr. Ryan Gelfand from EECS department
Wed, August 7th
12-1pm
LR5, Tech Building
For biosensing applications a useful device needs at least two properties: high sensitivity and high selectivity. Optical spectroscopy offers unique advantages over other sensing techniques however one big challenge to overcome is the mismatch between wavelength and the size of biologically relevant molecules. Metallic nanoantennas that convert the incidence radiation into plasmonic modes which can then be compressed well below the wavelength diffraction limit have been used extensively for biosensing. This talk will discuss new techniques for studying the near field and optical gradient force characteristics of these nanostructures and how this will help us gain insight to better use these plasmonic structures in developing next generation biomedical devices.
About Dr. Ryan Gelfand
Ryan M. Gelfand just finished his PhD in electrical engineering in the BISOL group led by Prof Hooman Mohseni. Before Northwestern he graduated with a degree in physics from Carnegie Mellon University and then spent one year as a pharmaceutical chemist at Abbott Laboratories. He was awarded an NSF Post-Doctoral Fellowship in Biology and will be starting his research on single-virus single cell interactions in the fall.
Game and Social Time!
Date: August 6th
Time: 5pm to 7pm
At Norris Center Game Room
Come out of your lab and get socialized with your friends and meet new people!
SPIE Student Speaker Series
"Two dimensional infrared spectroscopy" by Dr. Zhiwei Lin from Chemistry department
Monday May 13th
12-1pm
Ford ITW
Linear infrared spectroscopy (FTIR) has been extensively used to characterize molecular structures and molecular vibrational modes. However, the typically congested IR spectra introduce large ambiguity in specific mode assignment. Recently developed two-dimensional infrared spectroscopy (2DIR) extends the IR spectroscopy to another frequency dimension and has the capability of revealing coupling information between different vibrational modes, which can unravel the embedded information in the linear spectroscopy. As a nonlinear technique, 2DIR also takes the advantage of the femtosecond laser and enables the investigation of vibrational energy transport occurring in the picosecond time scale. This talk will take a brief survey of ultrafast laser techniques and nonlinear optics that are relevant for the 2DIR spectroscopy. An interesting study of vibrational energy transport along a polymer chain using the novel dual-frequency 2DIR technique will be demonstrated.
About Dr. Zhiwei Lin
Zhiwei Lin is currently a Postdoctoral Fellow in Department of Chemistry at Northwestern University. He earned a B.S. in Chemistry from Zhejiang University in China in 2007, and a Ph.D. in Physical Chemistry from Tulane University in 2012. His research interests include two-dimensional nonlinear vibrational/electronic spectroscopy, vibrational energy transport and electron transfer in polymers and metal complexes. Dr. Lin has received an award of the IBM Corporation Fellowships in Computational Science in 2010.
SPIE Faculty Speaker Series
"Nanophotonic Materials and Devices for Energy and Sensing Applications"
by Professor Koray Aydin (EECS, Northwestern University)
Thursday, April 18th
12-1pm
Ford ITW
Nanophotonics, the emerging field of photon-material interactions at the nanoscale, poses many challenges and opportunities for researchers engineering devices with subwavelength features. Plasmonic nanostructures and metamaterials exhibit optical properties not seen in conventional photonic materials and enable focusing, guiding, bending, and absorbing photons at the nanoscale. They are poised to revolutionize a broad range of applications including energy and sensing.

In this talk, I will describe the design, nanofabrication and optical characterization of engineered nanophotonic materials that enable controlled and enhanced photonic functionalities. First, I will discuss flexible, stretchable metamaterials in which the mechanical actuation of flexible polymers can be used to control the nanoscale distances between coupled metallic resonators. Such reconfigurable, smart nanophotonic materials significantly enhance the infrared reflection signal from a C-H vibrational mode, could find use in bio-chemical sensing and environmental screening applications. We observed 180-fold increase in the sensitivity of infrared absorption detection. As a second application of optical metamaterials, I will discuss broadband light-trapping approaches enabled by the unique metal nanostructure design and nanofabrication. Ultrathin, polarization-insensitive, broadband metamaterial super absorbers capable of absorbing light over the entire visible spectrum will be discussed in detail. Moreover, nanostructured semiconductors and transparent conductive oxides that enable drastic enhancements in solar light absorption will be described.
About Professor Koray Aydin
Dr. Koray Aydin is an Assistant Professor in the Electrical Engineering and Computer Science Department at Northwestern University and leading the Metamaterials and Nanophotonic Devices Laboratory. He has received his B.S. and Ph.D. degrees in Physics from the Bilkent University in 2002 and 2008, respectively. During his PhD, he studied novel electromagnetic phenomena, such as negative refraction, subwavelength imaging, and enhanced transmission, in microwave metamaterials and photonic crystals. He has worked as a postdoctoral researcher between 2008-2010 and a research scientist between 2010-2011 at the California Institute of Technology under the supervision of Prof. Harry Atwater. Dr. Aydin's postdoctoral research has focused on the experimental and theoretical investigation of active optical metamaterials and functional plasmonic nanostructures. His research interests are in the general area of nanophotonics, with a specific focus towards the realization of nanophotonic devices for use in energy conversion,  and biosensing applications. Dr. Aydin is an Associate Member of the Turkish Academy of Sciences and the recipient of the SPIE Educational Scholarship in 2007.
SPIE Student Speaker Series
"Terahertz quantum cascade laser sources: development and application " by Dr. Quanyong Lu from Center for Quantum Devices
Monday March 18th
12-1pm
Tech L221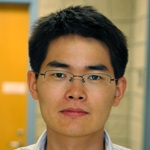 The terahertz (THz) spectral range (l = 30 ~ 600 mm) is important for numerous applications in imaging, spectroscopy, and biological engineering. A compact, room temperature, tunable THz source can greatly boost the THz applications. Among the existing THz sources, there are only a few that are truly compact, chip-based solutions. This includes electronic oscillators in lower frequencies, and THz quantum cascade lasers (QCLs) at higher THz frequencies. THz QCLs are compact, powerful sources but can only operate at cryogenic temperatures. The State-of-the art THz QCLs operates up to 200 K which is inaccessible by thermal electronic coolers. An alternative method of producing room-temperature THz is based on intra-cavity
difference-frequency generation (DFG) in mid-infrared (mid-IR) QCLs. By optimizing the active region and waveguide, we demonstrate room temperature THz sources with high power, narrow linewidth, with wide frequency tuning from 1.0 to 4.6 THz. This talk will briefly discuss the recent development of the THz QCL and highlight our latest room-temperature high-power THz QCLs sources based on DFG. THz devices with different phase-matching schemes, such as modal phase matching and Cherenkov phase matching, are designed and fabricated for wide THz frequency coverage.  By further extending our efforts, this type of THz sources will be valuable local oscillators of THz heterodyne spectroscopy for astronomical applications.
About Dr. Quanyong Lu
Quanyong Lu received his Ph. D. degree in Material Science and Chemistry from Institute of Semiconductors, Chinese Academy of Sciences in 2010. After that he joined in Center for Quantum Devices (CQD), Northwestern University as a postdoctoral researcher. Since 2005, he has investigated infrared semiconductor devices, particularly quantum cascade lasers (QCLs), with expertise in quantum and waveguide design, material design and characterization, device fabrication, and measurement. His research interests include mid-infrared and terahertz QCLs, photodectors, intracavity difference-frequency generated terahertz QCL sources, spectral and beam manipulation through one- or two-dimensional gratings, photonic crystal, and metamaterials. He has authored more than 20 peer reviewed journal publications and conference papers. His current research is focused on compact THz sources based on nonlinear generation in room-temperature mid-IR QCLs. He develops the world's first room temperature single-mode THz  QCL sources, and holds the performance records of high power mid-IR DFB QCLs, high power of THz QCL sources, and wide THz frequency coverage from 1.0 to 4.6 THz.
SPIE Outreach
Lincolnwood Elementary School
Mon. February 25th
Our SPIE officers and volunteers have been with the students in Lincolnwood Elementary School, helping them undestand the light!
SPIE Professional Development Seminar
"How to communicate effectively with faculty"
Tues. February 26th
12-1pm
Ford ITW
As a graduate student, the faculty has a big influence on your experience in school. Ensuring effective communication with faculty members is one of the essential keys to your success. Objectives to cover include improving communication skills, learning how to assert your needs effectively, exploring ways to cope with conflict, and incorporating additional resources for assistance. Click here to download the distributed materials and slides.
"Get the career you want!" Featuring Alaina G. Levine
Nov 16, 2012
Schedule: Click here
Searle 1421
A series of four talks, including "Topics on Managing Your Research Reputation: Access Hidden Career Opportunities", "Leadership and Team-Building Skills for Scientists and Engineers", "Negotiation Strategy and Tactics", and "Identifying and Seizing Value from Conference Participation" will be led by Alaina G. Levine, President of Quantum Success Solutions. an award-winning entrepreneur, and was named Tucson Leader of the Year, an honor previously bestowed upon former US Surgeon General Richard Carmona.
Career Workshop
"Elements of a Successful Job Search"
May 17, 2012
12:00 PM
Ford ITW
Recruiting for full-time positions in engineering and the sciences starts before fall quarter begins! Learn how to use the summer to effectively plan your job search. This workshop will cover the elements of a successful industry job search, including identifying your strengths, marketing your academic work to employers, structuring your search and using exclusive NU resources. This event will be held in Ford ITW.
Faculty Speaker: Professor Mark Hersam
"Chemically Refined Carbon Nanomaterials"
May 4, 2012
4:00 PM
Ford ITW
Abstract Carbon nanomaterials have attracted significant attention due to their potential to improve applications such as transistors, optoelectronic devices, transparent conductors, solar cells, batteries, and biosensors. This talk will highlight our latest efforts to develop strategies for purifying, functionalizing, and assembling carbon nanomaterials into functional devices. For example, we have recently developed and commercialized a scalable technique for sorting surfactant-encapsulated single-walled carbon nanotubes (SWCNTs) by their physical and electronic structure using density gradient ultracentrifugation (DGU). The resulting monodisperse SWCNTs enhance the performance of thin film transistors, infrared optoelectronic devices, photovoltaics, catalysts, and transparent conductors. The DGU technique also enables multi-walled carbon nanotubes to be sorted by the number of walls and solution phase graphene to be sorted by thickness, thus expanding the suite of monodisperse carbon nanomaterials. By extending our DGU efforts to carbon nanotubes and graphene dispersed in biocompatible polymers (e.g., DNA, Pluronics, Tetronics, etc.), new opportunities have emerged for monodisperse carbon nanomaterials in biomedical applications.
Speaker Bio: Mark C. Hersam is currently a Professor of Materials Science and Engineering, Chemistry, and Medicine at Northwestern University. He earned a B.S. in Electrical Engineering from the University of Illinois at Urbana-Champaign (UIUC) in 1996, M.Phil. in Physics from the University of Cambridge in 1997, and a Ph.D. in Electrical Engineering from UIUC in 2000. In 1999, he also performed research at the IBM T. J. Watson Research Laboratory under the support of an IBM Distinguished Fellowship. His research interests include nanofabrication, scanning probe microscopy, semiconductor surfaces, and carbon nanomaterials. As a faculty member, Dr. Hersam has received several awards including the Beckman Young Investigator Award, NSF CAREER Award, ARO Young Investigator Award, ONR Young Investigator Award, Sloan Research Fellowship, Presidential Early Career Award for Scientists and Engineers, TMS Robert Lansing Hardy Award, AVS Peter Mark Award, ECS SES Research Young Investigator Award, MRS Outstanding Young Investigator Award, and five Teacher of the Year Awards. In recognition of his early career accomplishments, Dr. Hersam was directly promoted from assistant professor to full professor with tenure in 2006. In 2007, Dr. Hersam co-founded NanoIntegris, which is a start-up company focused on supplying high performance carbon nanomaterials. Dr. Hersam is a Fellow of MRS and SPIE in addition to serving as the Chair of the AVS Nanometer-scale Science and Technology Division and as Associate Editor of ACS Nano.
Slideshow:
Student Speaker: Chao-Hsiang Chen
Low noise detection with quadrature squeezing using pulsed traveling-wave optical fields
Thursday, April 19, 2012
12:00 PM
Tech L324
Abstract: Interest in generating higher quantum noise squeezing in order to develop methods to enhance optical measurement below the shot-noise limit in various applications has grown in recent years. The noise suppression from squeezing can improve the SNR in coherent optical systems when the returning signal power is weak, such as optical coherence tomography, LADAR, confocal microscopy and low-light coherent imaging. Unlike the generation of squeezing with a continuous wave, which is currently developed mainly for gravitational wave detection in LIGO project, the study of pulsed-traveling waves is focused on industrial, medical and other commercial interests. The motivation is to explore the possibility of using quasi-phase matched crystals to generate the highest possible degree of quadrature squeezing with pulsed traveling-wave laser sources in free space configuration. In order to achieve this goal, efforts to test the various effects from spatial Gaussian modes and relative beam waist placement for the second-harmonic pump were carried out in order to further the understanding of limiting factors to pulsed traveling wave squeezing. 20mm and 30mm-long periodically poled lithium noibate (PPLN) crystals were used in the experiment to generate a squeezed vacuum state. A maximum of 4.2 ± 0.2dB quadrature squeezing has been observed, and the measured anti-squeezing exceeds 20dB. The phase sensitive amplification (PSA) gain and de-gain performance were also measured to compare the results of measured squeezing.
Speaker Bio: Dr. Chao-Hsiang Chen recently acquired doctorate degree in physics from Northwestern University. He acquired bachelor and master of science from National Taiwan University. During the doctorate study, Chen has been working under Prof. Prem Kumar's advisorship on various topics in nonlinear and quantum optics.
Social Event: Buffalo Wild Wings
Friday, March 2, 2012
6:00 PM
Student Speaker: Wei Zhou
"Manipulating and Amplifying Optical Fields by Strongly Coupled Plasmon Resonator Arrays"
Thursday, February 23, 2012
12:00 PM
L324 (EECS Conference Room)
Speaker Bio: Wei Zhou is currently finishing his Ph.D degree in Materials Science and Engineering at Northwestern University under the supervision of Professor Teri W. Odom. We received his B.S. in Physics in 2004 and M.S. in Optics in 2007 at Shanghai Jiao Tong University, China. His research focuses on designing and interrogating strongly coupled plasmon nanoresonator systems for applications in biosensors, nonlinear optical devices, lasers, and solar cells. He has also worked on developing novel nanofabrication techniques to create plasmonic nanostructures with designed geometries over large areas.
Abstract: Plasmon resonator arrays exhibit dramatically different optical properties from isolated ones because of strong near-field or far-field electromagnetic interactions between individual units. They can be used to trap, manipulate and amplify local optical fields for applications including biosensors, nonlinear optical devices, and solar cells. Unlike isolated resonators, coupled resonator arrays can also support Bloch modes for which the optical energy is delocalized over the entire system. This nonlocal effect leads to a dispersive optical response and thus a great spectral tunability. In this talk I will discuss three different types of coupled plasmon resonator systems I have fabricated and studied including: (1) plasmonic nanoparticle (NP) arrays, (2) metal-insulator-metal (MIM) nanocavity arrays, (3) planar plasmonic crystals. Each system demonstrates quite different, yet fascinating, behavior. Beyond the interesting physics of the electromagnetic coupling process these examples serve to highlight the versatility and potential of the soft nanofabrication techniques developed in our group.
Slideshow
Speaker: Susan Caplan
"How to Market Yourself Like Steve Jobs"
Wednesday, February 15, 2012
12:00 PM
Tech L324
Speaker Bio: Susan Caplan is an acknowledged writer and skilled business communication and marketing strategist with excellent verbal, written, presentation and interpersonal skills. She works in the manufacturing, packaged goods and service industries helping companies to enroll and engage employees and customers around corporate goals and initiatives. Susan specializes in employee engagement, change management, work/life and diversity initiatives, marketing, sales and training.
Abstract: There are lessons we can learn from the late Steve Jobs on how to position yourself in the marketplace during your job search. Susan Caplan will lead the session and also discuss how to build an elevator/sales pitch and utilize online tools available to you to make your job search strategic. Getting the career you want takes preparation, planning and utilizing all the tools available. Leave nothing to chance; make your job search strategic.
Slideshow
Student Speaker: Ionut Trestian
"Taming User-Generated Content in Mobile Networks via Drop Zones"
Friday, January 20, 2012
Cook 2058
12:00 PM
Speaker Bio: Ionut Trestian received his B.S. degree in Computer Science and Engineering from the Technical University of Cluj-Napoca, Romania, in 2007. He is currently finishing his Ph.D degree in Computer Science and Engineering at Northwestern University under the supervision of Professor Aleksandar Kuzmanvoic. His research interests include network measurement, social behavior of Internet users, handhelds, and cellular networks. During his PhD, Ionut published his work in the most prestigious networking conferences and journals such as: ACM SIGCOMM, IEEE INFOCOM, and IEEE/ACM Transaction on Networking.
Abstract: Smartphones have changed the way people communicate. Most prominently, using commonplace mobile device features (e.g., high resolution cameras), they started producing and uploading large amounts of content that increases at an exponential pace. In the absence of viable technical solutions, some cellular network providers are considering to start charging special usage fees to address the problem.
Our contributions are twofold. First, we find that the user generated content problem is a user-behavioral problem. By analyzing user mobility and data logs of close to 2 million users of a cellular network, we find that (i) users upload content from a small number of locations, typically corresponding to their home or work locations; (ii) because such locations are different for different users, we find that the problem appears ubiquitous, since user-generated content uploads grow exponentially at most locations. However, we also find that (iii) there exists a significant lag between content generation and uploading times. For example, we find that 55% of content that is uploaded via mobile phones is at least 1 day old.
Second, based on the above insights, we propose a new cellular networkarchitecture. Our approach proposes capacity upgrades at a select number of locations called Drop Zones. Although not particularly popular for uploads originally, Drop Zones seamlessly fall within the natural movement patterns of a large number of users. They are therefore better suited for uploading larger quantities of content in a postponed manner. We design infrastructure placement algorithms and demonstrate that by upgrading infrastructure in only 963 base-stations across the entire United States, it is possible to deliver 50% of total content via the Drop Zones.
This work was presented in April 2011 at IEEE INFOCOM 2011 in Shanghai, China and an extended version was recently accepted for publication in IEEE/ACM Transaction on Networking.
2011-2012