Old Announcements
SPIE Faculty Speaker Series
"Nanophotonic Materials and Devices for Energy and Sensing Applications"
by Professor Koray Aydin (EECS, Northwestern University)
Thursday, April 18th
12-1pm
Ford ITW
Nanophotonics, the emerging field of photon-material interactions at the nanoscale, poses many challenges and opportunities for researchers engineering devices with subwavelength features. Plasmonic nanostructures and metamaterials exhibit optical properties not seen in conventional photonic materials and enable focusing, guiding, bending, and absorbing photons at the nanoscale. They are poised to revolutionize a broad range of applications including energy and sensing.

In this talk, I will describe the design, nanofabrication and optical characterization of engineered nanophotonic materials that enable controlled and enhanced photonic functionalities. First, I will discuss flexible, stretchable metamaterials in which the mechanical actuation of flexible polymers can be used to control the nanoscale distances between coupled metallic resonators. Such reconfigurable, smart nanophotonic materials significantly enhance the infrared reflection signal from a C-H vibrational mode, could find use in bio-chemical sensing and environmental screening applications. We observed 180-fold increase in the sensitivity of infrared absorption detection. As a second application of optical metamaterials, I will discuss broadband light-trapping approaches enabled by the unique metal nanostructure design and nanofabrication. Ultrathin, polarization-insensitive, broadband metamaterial super absorbers capable of absorbing light over the entire visible spectrum will be discussed in detail. Moreover, nanostructured semiconductors and transparent conductive oxides that enable drastic enhancements in solar light absorption will be described.
About Professor Koray Aydin
Dr. Koray Aydin is an Assistant Professor in the Electrical Engineering and Computer Science Department at Northwestern University and leading the Metamaterials and Nanophotonic Devices Laboratory. He has received his B.S. and Ph.D. degrees in Physics from the Bilkent University in 2002 and 2008, respectively. During his PhD, he studied novel electromagnetic phenomena, such as negative refraction, subwavelength imaging, and enhanced transmission, in microwave metamaterials and photonic crystals. He has worked as a postdoctoral researcher between 2008-2010 and a research scientist between 2010-2011 at the California Institute of Technology under the supervision of Prof. Harry Atwater. Dr. Aydin's postdoctoral research has focused on the experimental and theoretical investigation of active optical metamaterials and functional plasmonic nanostructures. His research interests are in the general area of nanophotonics, with a specific focus towards the realization of nanophotonic devices for use in energy conversion,  and biosensing applications. Dr. Aydin is an Associate Member of the Turkish Academy of Sciences and the recipient of the SPIE Educational Scholarship in 2007.
SPIE Student Speaker Series
"Terahertz quantum cascade laser sources: development and application " by Dr. Quanyong Lu from Center for Quantum Devices
Monday March 18th
12-1pm
Tech L221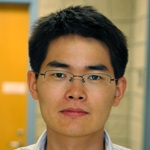 The terahertz (THz) spectral range (l = 30 ~ 600 mm) is important for numerous applications in imaging, spectroscopy, and biological engineering. A compact, room temperature, tunable THz source can greatly boost the THz applications. Among the existing THz sources, there are only a few that are truly compact, chip-based solutions. This includes electronic oscillators in lower frequencies, and THz quantum cascade lasers (QCLs) at higher THz frequencies. THz QCLs are compact, powerful sources but can only operate at cryogenic temperatures. The State-of-the art THz QCLs operates up to 200 K which is inaccessible by thermal electronic coolers. An alternative method of producing room-temperature THz is based on intra-cavity
difference-frequency generation (DFG) in mid-infrared (mid-IR) QCLs. By optimizing the active region and waveguide, we demonstrate room temperature THz sources with high power, narrow linewidth, with wide frequency tuning from 1.0 to 4.6 THz. This talk will briefly discuss the recent development of the THz QCL and highlight our latest room-temperature high-power THz QCLs sources based on DFG. THz devices with different phase-matching schemes, such as modal phase matching and Cherenkov phase matching, are designed and fabricated for wide THz frequency coverage.  By further extending our efforts, this type of THz sources will be valuable local oscillators of THz heterodyne spectroscopy for astronomical applications.
About Dr. Quanyong Lu
Quanyong Lu received his Ph. D. degree in Material Science and Chemistry from Institute of Semiconductors, Chinese Academy of Sciences in 2010. After that he joined in Center for Quantum Devices (CQD), Northwestern University as a postdoctoral researcher. Since 2005, he has investigated infrared semiconductor devices, particularly quantum cascade lasers (QCLs), with expertise in quantum and waveguide design, material design and characterization, device fabrication, and measurement. His research interests include mid-infrared and terahertz QCLs, photodectors, intracavity difference-frequency generated terahertz QCL sources, spectral and beam manipulation through one- or two-dimensional gratings, photonic crystal, and metamaterials. He has authored more than 20 peer reviewed journal publications and conference papers. His current research is focused on compact THz sources based on nonlinear generation in room-temperature mid-IR QCLs. He develops the world's first room temperature single-mode THz  QCL sources, and holds the performance records of high power mid-IR DFB QCLs, high power of THz QCL sources, and wide THz frequency coverage from 1.0 to 4.6 THz.
SPIE Outreach
Lincolnwood Elementary School
Mon. February 25th
Our SPIE officers and volunteers have been with the students in Lincolnwood Elementary School, helping them undestand the light!
SPIE Professional Development Seminar
"How to communicate effectively with faculty"
Tues. February 26th
12-1pm
Ford ITW
As a graduate student, the faculty has a big influence on your experience in school. Ensuring effective communication with faculty members is one of the essential keys to your success. Objectives to cover include improving communication skills, learning how to assert your needs effectively, exploring ways to cope with conflict, and incorporating additional resources for assistance. Click here to download the distributed materials and slides.
"Get the career you want!" Featuring Alaina G. Levine
Nov 16, 2012
Schedule: Click here
Searle 1421
A series of four talks, including "Topics on Managing Your Research Reputation: Access Hidden Career Opportunities", "Leadership and Team-Building Skills for Scientists and Engineers", "Negotiation Strategy and Tactics", and "Identifying and Seizing Value from Conference Participation" will be led by Alaina G. Levine, President of Quantum Success Solutions. an award-winning entrepreneur, and was named Tucson Leader of the Year, an honor previously bestowed upon former US Surgeon General Richard Carmona.
Career Workshop
"Elements of a Successful Job Search"
May 17, 2012
12:00 PM
Ford ITW
Recruiting for full-time positions in engineering and the sciences starts before fall quarter begins! Learn how to use the summer to effectively plan your job search. This workshop will cover the elements of a successful industry job search, including identifying your strengths, marketing your academic work to employers, structuring your search and using exclusive NU resources. This event will be held in Ford ITW.
Faculty Speaker: Professor Mark Hersam
"Chemically Refined Carbon Nanomaterials"
May 4, 2012
4:00 PM
Ford ITW
Student Speaker: Chao-Hsiang Chen
Low noise detection with quadrature squeezing using pulsed traveling-wave optical fields
Thursday, April 19, 2012
12:00 PM
Tech L324
Social Event: Buffalo Wild Wings
Friday, March 2, 2012
6:00 PM
Meet up at 5:45 in Tech Lobby if you want to walk over with the group.
Student Speaker: Wei Zhou
"Manipulating and Amplifying Optical Fields by Strongly Coupled Plasmon Resonator Arrays"
Thursday, February 23, 2012
12:00 PM
L324 (EECS Conference Room)
Learn more...
Speaker: Susan Caplan
"How to Market Yourself Like Steve Jobs"
Wednesday, February 15, 2012
12:00 PM
Tech L324 (EECS Conference room)
Note that fliers may say the talk is in Tech LR2, but the location has changed to L324.
Learn more...
Student Speaker: Ionut Trestian
January 20, 2012
Cook 2058
12:00 PM
Our next student speaker will be Ionut Trestian, presenting on the topic "Taming User-Generated Content in Mobile Networks via Drop Zones."
Learn more...
Invited Speaker: Susan Caplan
Susan Caplan will be delivering a talk entitled "How to Market Yourself to The Real World" at 1PM in Tech M152 on December 2.
Learn more...